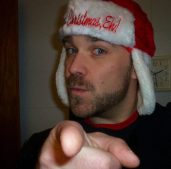 Visit this page often…it's kinda like trippin' on internet shrooms!
******************************
Hello and congratulations on your exciting decision to learn more about Vaughn Zenko. You are about to embark on an exciting and somewhat strange new adventure. If, for any reason, you are unsatisfied with what you have learned, simply hit the "back" button on your computer and we'll all pretend this never happened.
Vaughn comes to us as a world traveler. Mostly along the I-94 corridor, though. From Wisconsin, to Montana, to Chicago, back to Montana then back to Chicago then back to Wisconsin then back to Chicago and finally back to Montana where he landed his job at Newell Media by winning a hot dog eating contest in a supermarket parking lot, which, as many of you know, is how radio stations traditionally fill their on-air positions.
As luck would have it, his time on the airwaves of Chicago has proven even more useful than his hot dog eating abilities and, in addition to becoming the voice of Baker Spartan Sports on KFLN, Vaughn has hosted the morning show on 100.5 FM "the Rock" since the station went on the air in July of 2001.
Despite several attempts to fire him, convince him to leave or just plain change the locks at the station, he still manages to find his way in every weekday morning and, now, we couldn't be happier to have him and his remarkable ability to work the excessive hours for low pay that would normally be reserved for only the most desperate of illegal immigrants.
Thanks to his tireless efforts, Spartan sports broadcasts continue to thrill, "the Rock" has blossomed into the gold standard for Eastern Montana rock radio, Vaughn has won 11 prestigious Marconi Awards, and if anyone can figure out a way to translate any of that into actually turning a profit, please let us know.
Huzzah!
Now, please to enjoy this in-depth questionnaire into the mind behind ZenkoLand, and, when confronted with any problem, just ask yourself "What Would Vaughn Zenko Do". It's easy because the answer is almost always drink a Pabst Blue Ribbon and crank up the soundtrack to "The Muppet Movie."
1. WHAT IS YOUR HOMETOWN?
I was born in Racine, WI, got older in Great Falls, MT, and grew up in Naperville, IL.
2. WHERE DID YOU GRADUATE HIGH SCHOOL?
The gym. It was hot. I was in powder blue. Not a good moment in Right Guard's history.
3. IF YOU WERE STRANDED ON A DESERT ISLAND, WHAT LUXURY ITEM WOULD YOU WANT TO HAVE WITH YOU?
A yacht.
4. WHAT DO YOU DO WITH YOUR TIME WHEN YOU'RE NOT WORKING?
More work.
5. WHAT PETS DO YOU HAVE?
Seven pounds of awesome named Precious: The Pomeranian equivalent of Chuck Norris. The dinosaurs went extinct because they knew Precious was coming.
6. COLLEGE DEGREES OR MILITARY EXPERIENCE: WHAT, WHERE, WHEN?
I majored in Broadcasting and Philosophy at North Central College. Which basically means that I have one degree in being poor, and another in being really bummed out about that fact.
7. IF YOU COULD TRAVEL ANYWHERE IN THE WORLD, ALL EXPENSES PAID, WHERE WOULD YOU CHOOSE TO GO?
Can I just stay home and take the cash? No? Then I want to go to Scotland, because I always wanted to marry a Scottish girl. No, I don't have a good reason for that. And I'm aware I'm ALREADY married to a girl who is not Scottish, so I may just have repressed Scrooge McDuck memories from my childhood. Also, I guess on not sure about how the Scottish wind blows regarding polygamy and I feel that most weddings I've been to have suffered from an unfortunate lack of caber tossing.
8. IF YOU COULD TRAVEL BACK IN TIME TO GIVE YOUR YOUNGER SELF ADVICE, WHAT AGE WOULD YOU GO BACK TO, AND WHAT WOULD YOU TELL YOURSELF?
I guess I'd go back to Freshman year of high school and tell myself that it doesn't matter what you do with your life, because, apparently, you'll eventually get a time machine to go back and and give yourself advice to fix it all. Also…don't major in Broadcasting and Philosophy, flaunt your hair as much as possible, and stop watching so much "Ducktales".
9. WHAT CELEBRITY, DEAD OR ALIVE, WOULD YOU LIKE TO MEET?
Look, we all love "You Spin Me Round (Like A Record), but why does every cute little survey have to keep asking me which member of iconic 80s band, Dead Or Alive, I'd like to meet? The obvious answer is lead singer, Pete Burns. What, am I supposed to be all avant garde and pick Wayne Hussey? Don't be ridiculous.
10. WHAT IS YOUR MOST MEMORABLE MOMENT FOR YOU? (FIRST CAR, FIRST KISS, FIRST BEER…AND WHY?)
I remember my first beer because it wasn't until exactly on my 21st birthday, and waited for my first kiss until marriage. See, parents? Vaughn Zenko = Role Model.
11. WHAT IF YOUR FAVORITE BREAKFAST FOOD?
I don't often eat breakfast, but when I do, I prefer Dos Equis.
12. WHAT LED YOU TO WORK FOR NEWELL MEDIA?
They found me after my parents left me on the door step in a basket, wrapped in my baby blanket with a note pinned to my diaper and a little microphone in my hand. I was 23.
13. WHAT WERE YOU DOING BEFORE YOU WORKED FOR NEWELL MEDIA?
Goofing off, partying, listening to music, avoiding any semblance of real work or responsibility. So pretty much the same thing as I do  now.  Except now I get paid for it.  Yay!
14. WHAT IS YOUR FAVORITE MUSICAL GENRE? ARTIST(S)?
I grew up in the 90s, so, obviously, my favorite artists are Chumbawamba and Lou Bega. Okay, not really, but I'm sure there's a lot of Aqua fans that'll be mad if I don't give them a shout out, too.
Actually, I love all kinds of music. Except maybe 17th century Mongolian folk tambourine flamenco ballads with allegro banjo and trombone harmonies. I enjoy them without the banjo though.
15. WHAT IS YOUR FAVORITE ASPECT OF BAKER, MT?
I hear they have a pretty sweet classic rock radio station there. Okay, good? Will you release my family NOW?! Please take these off  these shackles. I've done everything you asked!!  PLEASE?!?!!